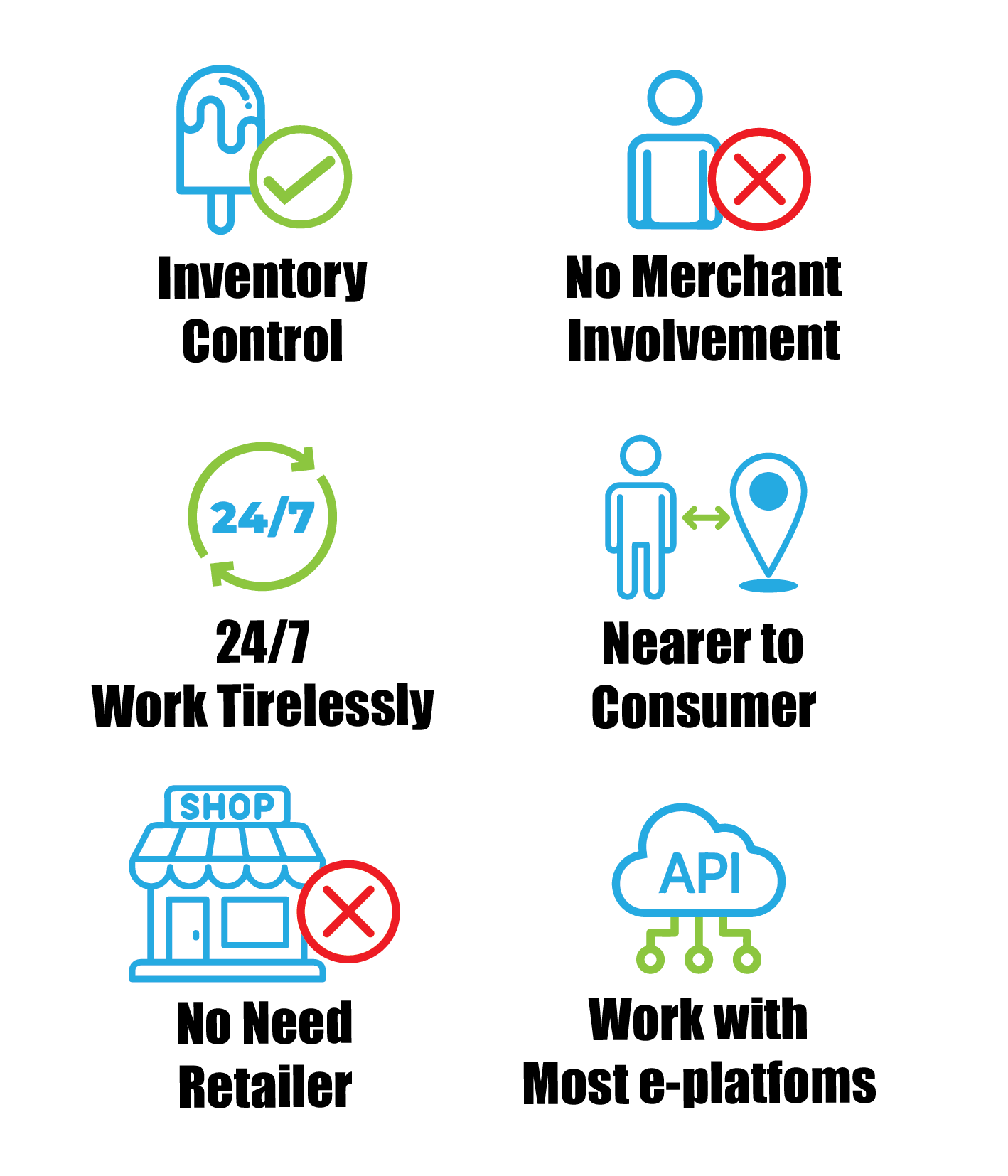 Benefits of Using Vending Machine in e-Commerce
Revolutionize your e-commerce experience with our vending machines, providing benefits such as precise inventory control, direct-to-consumer operations without merchant involvement, 24/7 availability, increased proximity to consumers, elimination of the need for a retailer, and seamless compatibility with most e-commerce platforms.
Online-to-Offline
HappyIce is an ice cream vending machine that enables Online-to-Offline ice cream access 24/7 with live-stream data. Indulge in guilt-free ice cream enjoyment with Grab's eco-friendly approach. This brief guide outlines the process of ordering ice cream through Grab, collecting it from a nearby vending machine by a Grab rider, and receiving doorstep delivery—all within a sustainable 2.5km radius. Due to the short distance to the ice cream vending machine, consumers are able to enjoy ice cream in less than 25 minutes.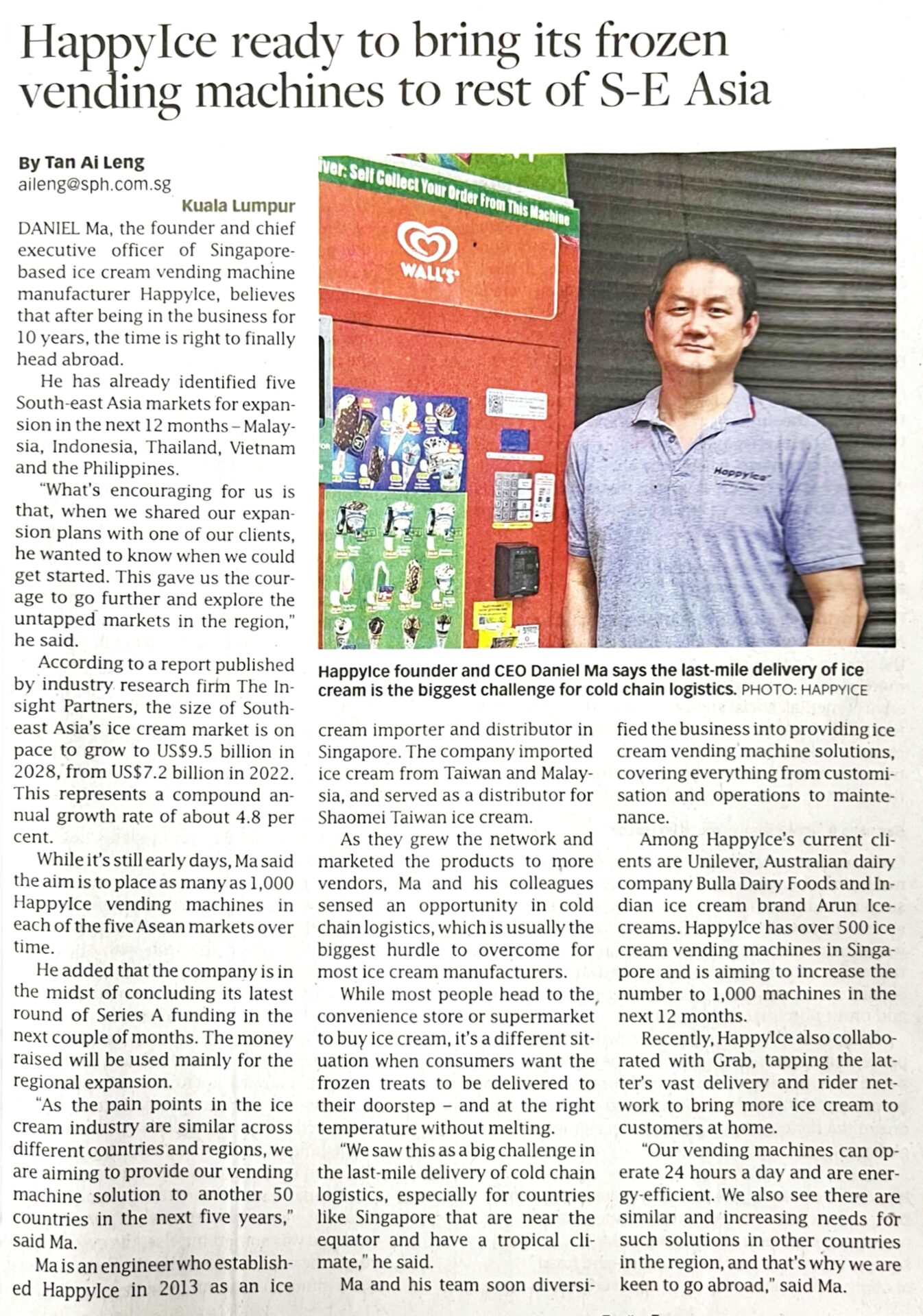 HappyIce ready to take its frozen vending machines to rest of S-E Asia
THE BUSINESS TIMES
Published Wed, Dec 06, 2023 · 6:00 pm Updated Thu, Dec 07, 2023 · 9:54 am

[KUALA LUMPUR] Daniel Ma, the founder and CEO of HappyIce, a Singapore-based ice cream vending machine manufacturer, is poised to take the company abroad after a decade in the business. Having identified Malaysia, Indonesia, Thailand, Vietnam, and the Philippines as the target markets for expansion in the coming 12 months, Ma is optimistic about the company's prospects.
Frozen food is the future, frozen dessert is a great treat
Frozen food is undeniably the future, offering both delicious taste and extended shelf life. However, challenges like limited access, high costs, and exclusion from online ordering have hindered its widespread adoption. Imagine a future where frozen food and ice cream are easily accessible both online and offline. Our revolutionary technology is poised to transform how frozen treats reach consumers. We envision a future where the enjoyment of frozen food and ice cream is not restricted by cold-chain requirements and inconvenience. Here's how we plan to make this vision a reality.
We make operating ice cream vending machine become easy
Operating an ice cream vending machine can be challenging due to the delicate nature of ice cream. We understand this issue and have developed a solution that makes operating our vending machine easier than ever before.
Our innovative design and robust remote monitoring system enable operators to effectively operate the vending machine with minimum effort, while ensuring the ice cream remains at the perfect condition.
To help you get started, we've put together a step-by-step guide on how to operate our vending machine, so you can feel confident and prepared.
With our vending machine and right coolness preserve method and tools, you don't need a cold truck to run a successful ice cream vending machine business.
Join the many successful entrepreneurs who have already partnered with us and take your business to the next level.
Alternative way to market your ice cream
Are you looking for new and innovative ways to market your ice cream? Consider using vending machines to expand your reach and appeal to customers who prefer convenient, on-the-go options.
By incorporating vending machines into your marketing strategy, you can reach new customers and differentiate yourself from competitors. With some creativity and innovation, you can turn your vending machines into a fun and memorable part of your brand experience.
Help oversea distributor capture market
Ice cream brand owners can help their overseas distributors capture market share with ice cream vending machines by providing marketing support, training and technical assistance, financing options, and by developing partnerships with local businesses. These strategies can increase the chances of success for introducing ice cream vending machines in a new market and establish the brand as a leader in the industry.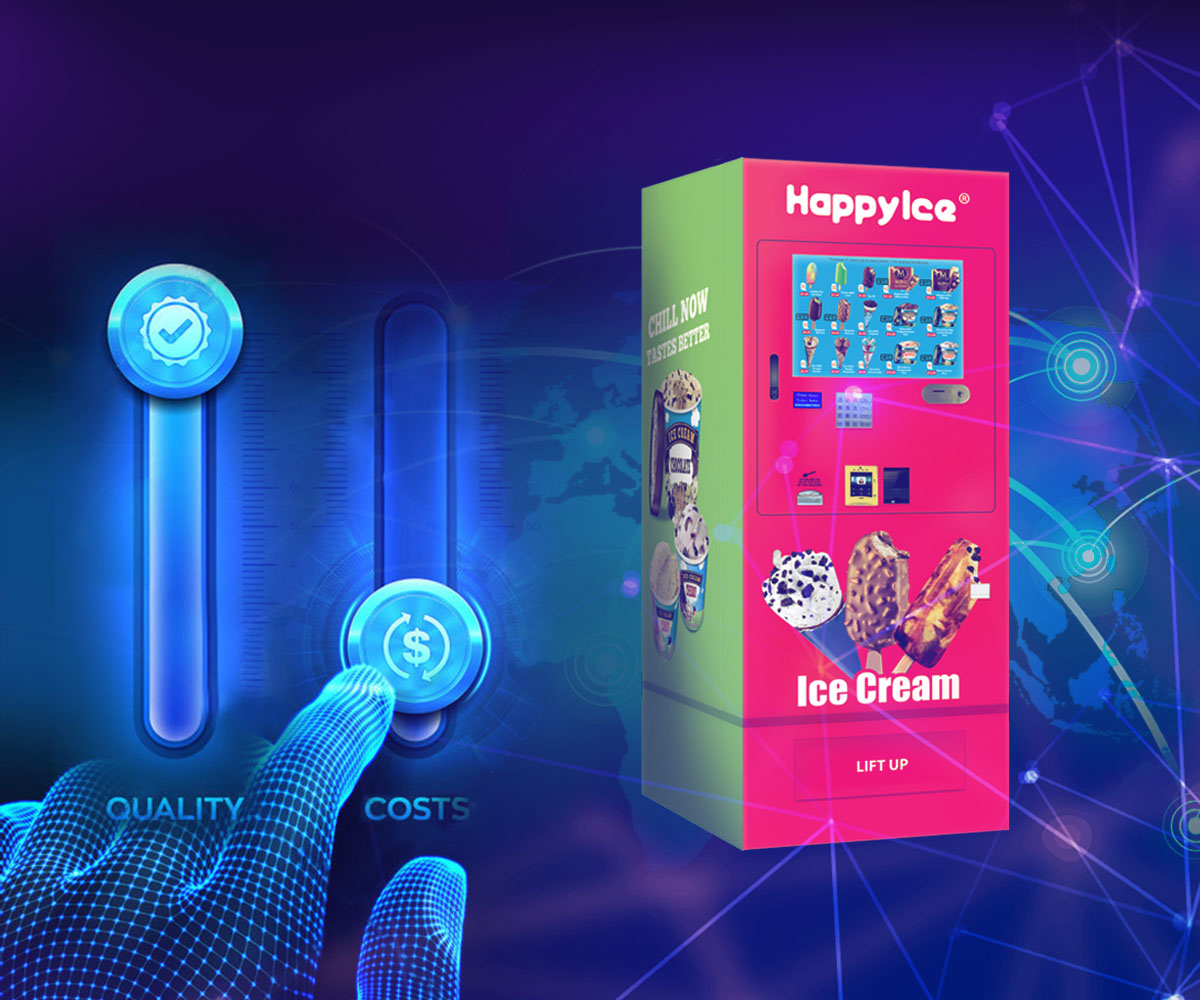 Technology Transfer License
Producing SMART freezer vending machines requires high R&D investment cost and high technology skill sets.
Happy Ice has designed a technology transfer license to licence out its technology worldwide.
With an established assembly instructions and guidance from our on-site specialist, assembling the frozen vending machines could be as easy as IKEA style.
Through this licence, we make possible for clients to acquire know-how knowledge in assembling the vending machines. Customer will be able to achieve higher profit and larger scale of market penetration in their country.
SMART Frozen Vending Machine, will enable Frozen Food Manufacturers to expand their B2C sales channels; allow retailers and vending machine operators to increase their product line-up to the end consumers.